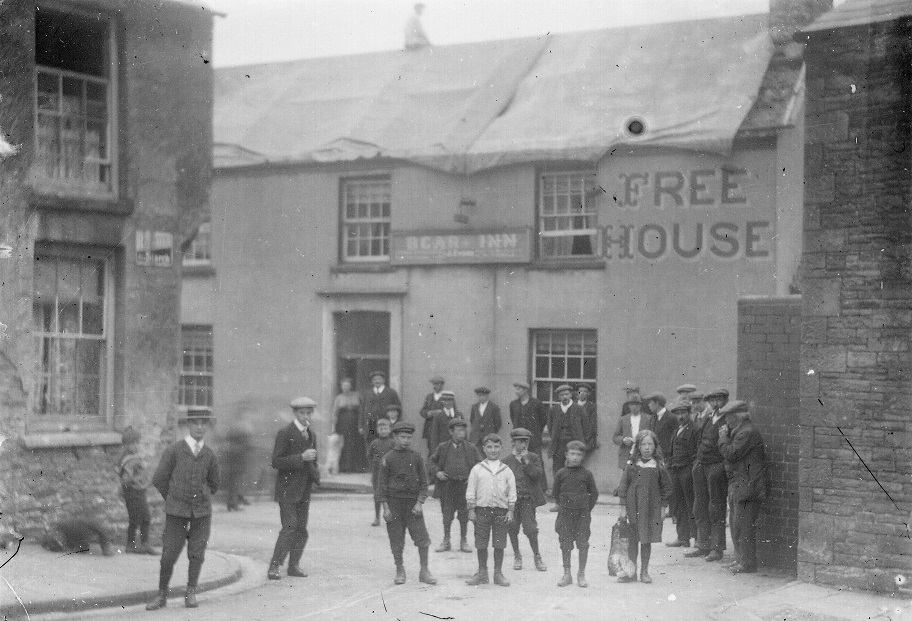 The Bear Inn
Built sometime around 1780, the Bear Inn was next to a blacksmith's forge.

It was a brewhouse which Joseph John acquired after the death Rev Owen Jenkins in 1786 and had originally been the house of attorney Henry Morgan, portreeve in 1745. His son, also Joseph John, took it on in 1801 and in 1841 the tenant was stonecutter Joseph Davies.


The next tenant was Henry Williams took over the The Bear Inn from his father, John Williams "Jack the Bear". Henry married Mary Morgan of the Bakehouse and their children were Daniel, William Henry, Winifred, Johnny, Theophilus, Marie Louisa, Elim, Asnath and Sinia.

He enrolled as a Freeman of Llantrisant on 7 May 1869. His obituary notice of October 1906 read: "The death occurred at his residence, Bear Inn, Llantrisant, on Saturday, of Mr Henrv Williams, a general smith, at the age of 61. He was well known throughout South Wales, highly respected, and his familiar figure will be missed by many. He was noted for the breed of ponies he kept, one of which is the latest galloway success, Little Ev."
The pub was later run by Welsh featherweight boxing champion Syd Worgan. Despite a spell as Welsh featherweight champion from 1944 to 1947, he continued to work as a miner.


Born in Llanharan, his boxing career began when his sister Elizabeth bought him a set of gloves as a birthday present. At the age of 19, he was matched against George Williams of Treherbert in a final eliminator for the Welsh featherweight title. At the Pavilion in Mountain Ash, he fought 15 gruelling rounds only to lose on points.

In 1944, he outpointed Tommy Davies at Newport and the title was finally his. For the next five years, he defeated all challengers and was ranked number eight in the world, but retired in 1949.

In 1960, Syd and his wife Dilys took over the Bear Inn. In 1976, he helped form the Welsh Ex-Boxers Association which flourished with him as secretary and later president.