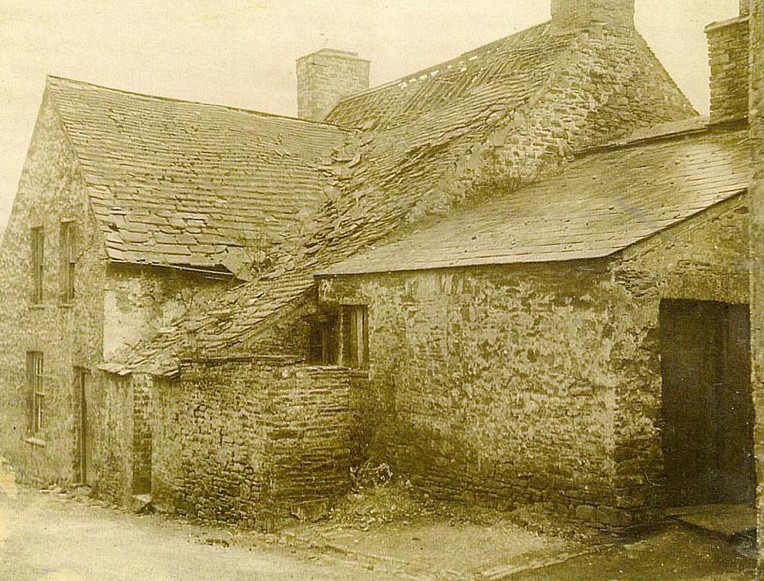 White Hart Inn
At the rear of the White Hart Inn was a cottage, followed by the George Inn and the pitched alleyway linking the two streets of Swan and George. 

Hywel Thomas Llywelyn (1714-1764) was one of the earliest innkeepers of the White Hart. It later belonged to Robert Fowler Rickards, the son of the late Rev Rickards whose tenant in 1842 was David Jones, a 70-year-old widower. 

Further licensees included David Morgan, Thomas Llewellyn, Charles Davies and May Ann Davies. David Morgan was the son of Richard Morgan of the tailor's shop on the Bull Ring and with his wife Eleanor they had a son, the future Town Trust Clerk and author Taliesin Morgan.

The White Hart was demolished around 1912 while the pitched alleyway it with George Street remained.

White Hart - News Reports
PECULIAR LICENSING CASE
12 March 1898
Before Messrs Evan John and P. J. Dunn, at the Llantrisant Police Court on Friday, William Boyle, landlord of the White Hart Inn, Llantrisant, was charged with selling beer during prohibited hours.
Mr James Phillips, solicitor, Pontypridd, defended. P.C. Davies said that on Sunday evening, about 10.30 he visited the defendant's premises, and when he knocked at the door, he heard some "scuffling" inside, as if someone were going out through the back.
Subsequently he was admitted, and in the tap-room discovered two men drinking. They said they were going to stay there that night. In the front room he discovered a man named Brown hiding, whom the other two men claimed to be their guest.
Corroborative evidence was given by P.C. Lucas. For the defence it was said by Mr John Phil- lips that the men were lodgers at the inn that night, and were entitle to the privilege of drinking like the landlord. They had also a perfect right to entertain their guest.
The landlord said they were lodgers in his house that night and Brown was their guest. The case was dismissed.

POLICE COURT
20 December 1873
At the police-court yesterday, before Sir. Gwillym Williams, stipendiary. William Brown, Llantrisant, was charged with being drunk and refusing to quit the White Hart public-house. P.C. Lewis stated that being called to the White Hart he found defendant quarrelling with another man. Being requested to eject him, he did so, but was called in again in about a quarter of an hour afterwards, when he found defendant again quarrelsome. He then turned him out again. Being a lodger there the magistrates considered he could not fine him for refusing to quit. The defendant therefore had the benefit of the doubt, and was discharged.

SUDDEN DEATH
3 September 1893
We regret having to record this the death of Mr William Stephens, aged 53, the landlord of the White Hart public-house, Llantrisant, which occurred quite suddenly at his residence; he having been ill but 45 minutes. Deceased had been suffering for some time from acute rheumatism.