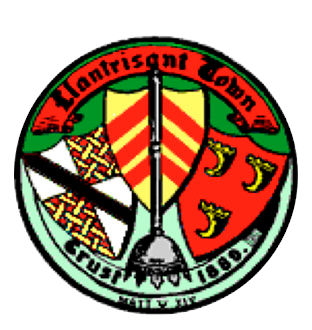 The original seal or crest of Llantrisant Town Trust was designed by Robert Drane of Cardiff.

It was created to represent the arms of Consul, De Clare and Despenser, the three Norman families whose history was so closely connected with the Borough.

The shield on the left is of Despenser. In the centre is De Clare and on the right being Robert Consul.

The Mace is shown inverted to indicate the dissolution of the ancient corporation.

The  quotation from Matthew V and IV being: " A cite that is set on an hill cannot be hid."
The present crest was altered at the time of the 125th anniversary of the Town Trust.

It removed the questionable crest of Consul because there is little evidence of his exact involvement in the development of Llantrisant. Instead it was replaced with that of the Earl of Pembroke who presented the Mace to the Corporation in 1633.