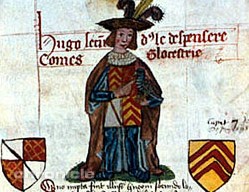 Gilbert de Clare died at Monmouth Castle on 7 December 1295, and was buried at Tewkesbury Abbey, on the left side of his grandfather.

His extensive lands were enjoyed by his surviving wife Joan of Acre until her death in 1307. Then it passed to their eldest son, also Gilbert De Clare, the 8th Earl of Gloucester (1291-1314). A military commander in the Scottish Wars, his main focus lay in the pursuit of war rather than domestic political strike. On inheriting his father's earldoms at the age of 16, he became involved in the defence of the northern border, but later he was drawn into the struggles between Edward II and some of his barons.

He was one of the Lords Ordainers who ordered the expulsion of the king's favourite – and lover - Piers Gaveston in 1311. When Gaveston was killed on his return in 1312, de Clare helped negotiate a settlement between the perpetrators and the king. One of Edward's strongest supporters, he accompanied the king on a campaign to Scotland in 1314, when several other nobles refused. He was killed at the Battle of Bannockburn on 24 June, under somewhat unclear circumstances. De Clare was the most prominent of the casualties of the battle, which ended in a humiliating defeat for England.
As he had no children, his death marked the end of the prominent de Clare family. His estates were divided between his three sisters, including Eleanor who in May 1306 was married to Hugh Despenser, 1st Lord Despenser (c. 1286– 24 November 1326), also referred to as "the younger Despenser". He was the son and heir of Hugh le Despenser, Earl of Winchester (the elder Despenser), and Isabella daughter of William, 9th Earl of Warwick. He rose to national prominence as royal chamberlain and lover of Edward II of England and became one of the most hated noblemen in British history. His wife, Eleanor de Clare was the granddaughter of King Edward I.

The King owed the elder Despenser 2,000 marks and the marriage settled this debt, and was a reward for the elder Hugh's loyal service. Following the Battle of Bannockburn, she unexpectedly became one of the three co-heiresses to the rich Gloucester earldom, and in her right Hugh inherited Glamorgan and other properties. In just a few years Hugh went from a landless knight to one of the wealthiest – and most cruel - magnates in the kingdom.

Eleanor was also the niece of the new king, Edward II (1284-1327) and this connection brought Despenser closer to the English royal court. He joined the baronial opposition to the Gascon knight Piers Gaveston, the king's favourite (and Hugh's brother-in-law, as Gaveston was married to Eleanor's sister Margaret). Eager for power and wealth, Despenser seized Tonbridge Castle in 1315, after his brother-in-law's death under the misapprehension that it belonged to his mother-in-law (he relinquished it on discovering that the rightful owner was the Archbishop of Canterbury). It is believed that although Edward II fathered at least five children, he was bisexual and his inability to deny even the most grandiose favours to his unpopular male favourites led to constant political unrest. Whilst Gaveston was one of them, it was strongly believed that young Hugh Despenser was another.

As Lord of Glamorgan, one of Hugh Despenser's greatest enemies was Llywelyn Bren (died 1318), or Llywelyn ap Gruffudd ap Rhys or Llywelyn of the Woods, a nobleman who led a revolt in Wales. The revolt led to the destruction of Llantrisant's Castle and a hundred homes in around 1315 and 1316. This series of attacks would be the last serious challenge to English rule in Wales until the attempts of Owain Lawgoch to invade Wales with French support in the 1370s. Llywelyn Bren was a Welsh nobleman of the minor royal house of the cantref of Senghenydd and a descendant of Ifor Bach, his great-great grandfather. Llywelyn married Lleucu (d. 1349), and they produced at least seven sons, who also participated in the revolt.

Prior to the outbreak of Llywelyn's revolt in 1316, there had been a recent outbreak of violence in Anglo-Norman south-east Wales. The death of Gilbert de Clare, at Bannockburn left a power vacuum in the region, and the heavy-handed response of the English Crown towards overseeing de Clare's lands there,  combined with the death of several hundred men of Glamorgan at Bannockburn, precipitated a revolt in the lordship in late summer of that year. Llywelyn seems not to have participated in this revolt, which seem was brought to an end when Edward II, appointed Bartholemew de Badlesmere as royal custodian in Glamorgan.

In 1315, Edward II, who was guardian of the three sisters and heiresses of the estate of Gilbert de Clare replaced de Badlesmere with a new English administrator, Payn de Turberville of Coity, who persecuted the people of Glamorgan, then (like many in northern Europe at the time) in the throes of a serious famine. In coming to the defence of his people, Llywelyn incurred the wrath of de Turberville, who charged him with sedition. Llywelyn then appealed to King Edward II to call off or control his self-interested agent. But Edward ordered Llywelyn to appear before Parliament to face the charge of treason.

The king promised Llywelyn that if the charges were found true, he would be hanged. Llywelyn then fled and prepared for war. On 28 January 1316, Llywelyn began the revolt by a surprise attack on Caerphilly Castle. He captured the Constable outside the castle and he and his men captured the outer ward but could not break into the inner defences. They burned the town and slaughtered some of its inhabitants and started a siege. The revolt quickly spread through Glamorgan and Gwent; Kenfig castle was sacked, as was the castle at Llantrisant, and several others were attacked, including St Georges-super-Ely, Llangibby and Dinefwr Castle. Towns including Cardiff and Llantrisant were raided and buildings burned. Edward ordered Humphrey de Bohun, 4th Earl of Hereford and Lord of neighbouring Brecon to crush the revolt and he gathered overwhelming forces supported by the men of the chief Marcher Lords like Thomas, 2nd Earl of Lancaster and Roger Mortimer, 1st Earl of March. Troops came from Cheshire, north Wales, and also some Welsh soldiers from west Wales. In March, forces advanced from Cardiff and in a brief battle at Castell Mor Graig forced Llywelyn and his men to break off the siege of Caerphilly after six weeks. The Welsh retreated higher up the north Glamorgan plateau where Hereford and his men were moving south from Brecon.


Realising the fight was hopeless, Llywelyn surrendered unconditionally to the Earl of Hereford at Ystradfellte on 18 March 1316, but pleaded that only he should be punished and his followers should be spared. This gallant behaviour earned him the respect of his captors, including Roger Mortimer, one of the witnesses to his surrender and Hereford and Mortimer both promised to try to intercede on Llywelyn's behalf. Bren was sent as a prisoner first to Brecon and then to the Tower of London along with his family. Both Hereford and Mortimer urged the King to pardon Llywelyn and it seems likely that their influence won a pardon for many of Llywelyn's men. In 1318 Llywelyn became the prisoner of Hugh Despenser, a great rival of Mortimer. Without the king's direction, he took Llywelyn Bren to Cardiff Castle where he had him hanged, drawn and quartered without a proper trial. After the parts of his body were exhibited in various part of the county he was buried in the Grey Friars at Cardiff. Llywelyn's lands were seized by Despenser. This action was condemned at the time and later used as example of the Despensers' growing tyranny. Despenser also imprisoned Lleucu and some of her sons in Cardiff.

By 1320 his greed was running free. Despenser seized the Welsh lands of his wife's inheritance, ignoring the claims of his two brothers-in-law. He forced Alice de Lacy, Countess of Lincoln, to give up her lands, cheated his sister-in-law Elizabeth de Clare out of Gower and Usk, and allegedly had Lady Baret's arms and legs broken until she went insane. He also supposedly vowed to be revenged on Roger Mortimer because Mortimer's grandfather had killed Hugh's grandfather, and once stated (though probably in jest) that he regretted he could not control the wind. By 1321 he had earned many enemies in every stratum of society, from Queen Isabella (wife of Edward II) to the barons to the common people. There was even a plot to kill Despenser by sticking his wax likeness with pins. Finally the barons prevailed upon Edward II and forced Despenser and his father (Despenser the Elder) into exile in August 1321. His father fled to Bordeaux, and Despenser became a pirate in the English Channel, "a sea monster, lying in wait for merchants as they crossed the sea".

The victory of the barons proved their undoing. With the removal of the Despensers, many nobles, regardless of previous affiliation, now attempted to move into the vacuum left by the two. Hoping to win Edward's favour, these nobles were willing to aid the king in his revenge against the barons and thus increase their own wealth and power. In following campaigns, many of the king's opponents were murdered, the Earl of Lancaster being beheaded in the presence of Edward himself. With all opposition crushed, the king and the Despensers were left the unquestioned masters of England. At the York Parliament of 1322, Edward issued a statute which revoked all previous ordinances designed to limit his power and to prevent any further encroachment upon it. The king would no longer be subject to the will of Parliament, and the Lords, Prelates, and Commons were to suffer his will in silence. Opposition to Edward and the Despensers rule continued; in 1324 there was a foiled assassination attempt on their lives, and in early 1325 John of Nottingham was placed on trial for involvement in a plot to kill them with magic.

The time from the Despensers' return from exile until the end of Edward II's reign was a time of uncertainty in England. With the main baronial opposition leaderless and weak, having been defeated at the Battle of Boroughbridge, and Edward willing to let them do as they pleased, the Despensers were left unchecked. They grew rich from their administration and corruption. This period is sometimes referred to as the "Tyranny". This maladministration caused hostile feeling for them and, by proxy, Edward II. Despenser repeatedly pressed King Edward to execute Mortimer, who had been held prisoner in the Tower of London, following his surrender. However, Mortimer escaped from the Tower and fled to France.


A dispute between France and England then broke out over Edward's refusal to pay homage to the French king for the territory of Gascony. After several bungled attempts to regain the territory, Edward sent his wife, Isabella, to negotiate peace terms. Overjoyed, Isabella arrived in France in March 1325. She was now able to visit her family and native land as well as escape the Despensers and the king, all of whom she now detested. On 31 May 1325, Isabella agreed to a peace treaty favouring France and requiring Edward to pay homage to her brother, King Charles; but Edward decided instead to send his son to pay homage. This proved a gross tactical error, and helped to bring about the ruin of both Edward and the Despensers, as Isabella, now that she had her son with her, declared that she would not return to England until Despenser was removed. Queen Isabella had a special dislike for Hugh Despenser the younger, with a claim made he had raped her and possibly knowing he was a secret lover of her husband. While Isabella was in France she formed a liaison with Roger Mortimer and together they began planning an invasion. Despenser supposedly tried to bribe French courtiers to assassinate Isabella, sending barrels of silver as payment.

In September 1326, Mortimer and Isabella invaded England. Edward was amazed by their small numbers of soldiers, and immediately attempted to levy an immense army to crush them. However, a large number of men refused to fight Mortimer and the queen. Edward's half-brother, the Earl of Kent, married Mortimer's cousin, Margaret Wake; other nobles, such as John de Cromwell and the Earl of Richmond, also chose to remain with Mortimer.  Henry of Lancaster for example, was not even summoned by the king, and he showed his loyalties by raising an army, seizing a cache of Despenser treasure from Leicester Abbey, and marching south to join Mortimer. The invasion soon had too much force and support to be stemmed. As a result, the army the king had ordered failed to emerge and both Edward and the Despensers were left isolated. They abandoned London on 2 October, leaving the city to fall into disorder.

On 15 October a London mob seized and beheaded without trial John le Marshal (a Londoner accused of being a spy for the Despensers) and Edward II's Treasurer, Walter de Stapledon, Bishop of Exeter, together with two of the bishop's squires. The king first took refuge in Gloucester (where he arrived on 9 October) and then fled to South Wales in order to make a defence in Despenser's lands. However, Edward was unable to rally an army, and on 31 October, he was abandoned by his servants, Despencer the Elder was captured at Neath and was imprisoned at Hereford, leaving Edward II with only the younger Despenser and a few retainers near Llantrisant.

On 27 October, the elder Despenser was accused of encouraging the illegal government of his son, enriching himself at the expense of others, despoiling the Church, and taking part in the illegal execution of the Earl of Lancaster. He was hanged and beheaded at the Bristol Gallows. Henry of Lancaster was then sent to Wales in order to fetch the king and the younger Despenser. Very few people were prepared to fight for Edward II, mainly because of the hatred that the Despensers had aroused. The Despensers fled West with the King, with a sizeable sum from the treasury. The escape was unsuccessful. On 16 November Edward II was guided by a Cistercian monk, (a Mortimer spy) for refreshment at Penrhys. Heading for safety, Edward was intercepted at Pant y Brad - the Hollow of Treason in Tonyrefail. Both were taken to Llantrisant castle, managed by Constable Robert de Aston, and imprisoned overnight.

Hugh Despenser the younger tried to starve himself before his trial, but he did face trial on 24 November 1326, in Hereford, before Mortimer and the Queen. He was judged a traitor and a thief, and sentenced to public execution by hanging, as a thief, and drawing and quartering, as a traitor. Hugh Despenser the younger tried to starve himself before his trial, but he did face trial on 24 November 1326, in Hereford, before Mortimer and the Queen. He was judged a traitor and a thief, and sentenced to public execution by hanging, as a thief, and drawing and quartering, as a traitor. Additionally, he was sentenced to be disembowelled for having procured discord between the King and Queen, and to be beheaded, for returning to England after having been banished.  Treason had also been the grounds for Gaveston's execution; the belief was that these men had misled the King rather than the King himself being guilty of folly. Immediately after the trial, Despenser was dragged behind four horses to his place of execution, where a great fire was lit. He was stripped naked, and Biblical verses denouncing arrogance and evil were carved into his skin. He was then hanged from a gallows 50 ft (15 m) high, but cut down before he could choke to death. Despenser was then tied to a ladder, and in full view of the crowd had his genitals sliced off and burned (in his still-conscious sight) then his entrails slowly pulled out, and, finally, his heart cut out and thrown into the fire. Just before he died, it is recorded that he let out a "ghastly inhuman howl", much to the delight and merriment of the spectators. Finally, his corpse was beheaded, his body cut into four pieces, and his head mounted on the gates of London. Mortimer and Isabella feasted with their chief supporters, as they watched the execution.

With the king imprisoned at Kenilworth, Mortimer and the queen faced the problem of what to do with him. The simplest solution would be execution: his titles would then pass to his son Edward of Windsor, whom Isabella could control, while it would also prevent the possibility of his being restored. Execution would require the king to be tried and convicted of treason: and while most lords agreed that Edward had failed to show due attention to his country, several argued that he was appointed by God. However, the fact remained that the legality of power still lay with the king. Parliament chose to act as an authority above the king. Representatives of the House of Commons were summoned, and debates began. The Archbishop of York, William Melton and others declared themselves fearful of the London mob, loyal to Roger Mortimer. Others wanted the king to speak in Parliament and openly abdicate, rather than be deposed by the queen and her general.

Mortimer responded by commanding the Lord Mayor of London, Richard de Betoyne, to write to Parliament, asking them to go to the Guildhall to swear an oath to protect the queen and Prince Edward, and to depose the king. Mortimer then called the great lords to a secret meeting that night, at which they gave their unanimous support to the deposition of the king. Eventually Parliament agreed to remove the king. However, for all that Parliament had agreed that the king should no longer rule, they had not deposed him. Rather, their decision made, Edward was asked to accept it.

On 20 January 1327, Edward II was informed at Kenilworth Castle of the charges brought against him: The king was guilty of incompetence; allowing others to govern him to the detriment of the people and Church; not listening to good advice and pursuing occupations unbecoming to a monarch; having lost Scotland and lands in Gascony and Ireland through failure of effective governance; damaging the Church, and imprisoning its representatives; allowing nobles to be killed, disinherited, imprisoned and exiled; failing to ensure fair justice, instead governing for profit and allowing others to do likewise; and of fleeing in the company of a notorious enemy of the realm, leaving it without government, and thereby losing the faith and trust of his people.

Edward, profoundly shocked by this judgment, wept while listening. He was then offered a choice: he might abdicate in favour of his son; or he might resist, and relinquish the throne to one not of royal blood, but experienced in government - this, presumably, being Roger Mortimer. The king, lamenting that his people had so hated his rule, agreed that if the people would accept his son, he would abdicate in his favour. The lords, through the person of Sir William Trussell, then renounced their homage to him, and the reign of Edward II ended. The abdication was announced and recorded in London on 24 January 1327, and the following day was proclaimed the first of the reign of Edward III - who, at 14, was still controlled by Isabella and Mortimer. Edward II remained imprisoned. 

The government of Isabella and Mortimer was so precarious that they dared not leave the deposed king in the hands of their political enemies. On 3 April, Edward II was removed from Kenilworth and entrusted to the custody of two subordinates of Mortimer, then later imprisoned at Berkeley Castle in Gloucestershire where, it was generally believed, he was murdered by an agent of Isabella and Mortimer on 11 October 1327. A public funeral was held in 1327, attended by Isabella, after which Edward's body was said to be laid in Gloucester Cathedral. An elaborate tomb was set up by his son, which attracted pilgrims from far and wide. Following the public announcement of the king's death, the rule of Isabella and Mortimer did not last long. They made peace with the Scots in the Treaty of Northampton, but this move was highly unpopular.

Consequently, when Edward III came of age in 1330, he executed Roger Mortimer on fourteen charges of treason, most significantly the murder of Edward II. Edward III spared his mother and gave her a generous allowance, but ensured that she retired from public life for several years. She died at Hertford on 23 August 1358. Mortimer was surprised in Nottingham Castle, arraigned as a traitor, accused of the death of Edward II and the Earl of Kent, and hanged, to the universal joy of the nation. His arrogance and vindictiveness recalled the worst features of the Despencers, and his adultery with the queen rendered him still more odious in the eyes of the people.

The imprisonment of the King and Despenser at Llantrisant Castle was the last major event recorded at the Norman stronghold. On the death of Hugh le Despencer, his eldest son, also Hugh le Despencer, was made the 2nd Baron le Despencer and Lord of Glamorgan. It was during his reign of the County that in 1346 the tradespeople in the community petitioned Despenser for a Charter to allow them to trade freely within their own town.