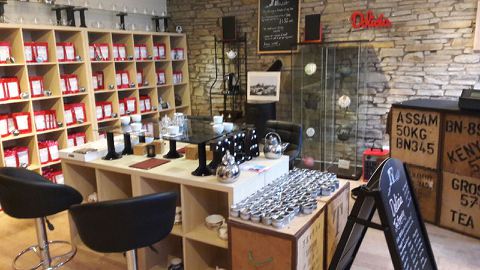 Delicia Tea Emporium
Delicia Tea Emporium is located in the heart of Llantrisant, specialising in high quality loose leaf tea from around the world.
If you have ever only experienced conventional tea, there's a whole new world of flavours, aromas and tastes waiting for you.
Come and sample at our tea bar or try our bespoke blending service, we are sure that we will have something to tantalise your taste buds.
Or why not try our very own range of Y Billy Wynt Teas especially blended in honour of our wonderful town of Llantrisant.
Y Billy Wynt range also includes commemorative blends such as The Freeman's blend which was  to commemorate the  Beating the Bounds tradition re-enacted by The Freemen of Llantrisant.
Having difficulty finding that extra special gift for that tea lover? Then look no further as we have plenty of great tea ware gifts to choose from.. 
Opening Times:

Monday – Friday 11am to 5.30pm
Saturday 10.30am to 5pm.

Delicia Tea Emporium
56 High Street
Llantrisant
Tel: 01443 230069