Following more than three years of restoration work and major contributions from funders, especially the Heritage Lottery Fund, the Grade II Listed Guildhall is near completion and trustees are hopeful for an August Bank Holiday opening.

On Saturday April 13 members of the public can have a unique insight into the development of the building and how its future sustainability can be assured.
Anytime between 10am and 4pm members of the Guildhall team, including trustees and consultants will be on hand at the Llantrisant Parish Hall on Swan Street.
Guildhall Manager Dean Powell said: "Visitors will be able to view a range of Guildhall information and details including the interior plans, exhibition fit out, interactive displays, treasured artefacts and the many events we propose to hold at the building in the future.
"This is also a unique opportunity to visit the Guildhall in its current state as the final phase of the interior fit out nears competition.
"It will also be an ideal opportunity for people to discuss how they can help run the building as part of a growing team of volunteers."
For more than three years the restoration and transformation of the building has been ongoing.  The main floor has been rebuilt, and extensive timber repairs carried out to the roof structure. New and refurbished windows and doors have been installed, and the exterior walls and porch have been completely repaired and renovated. The large medieval chimney has been rebuilt to its original height, and a new Welsh slate roof completed.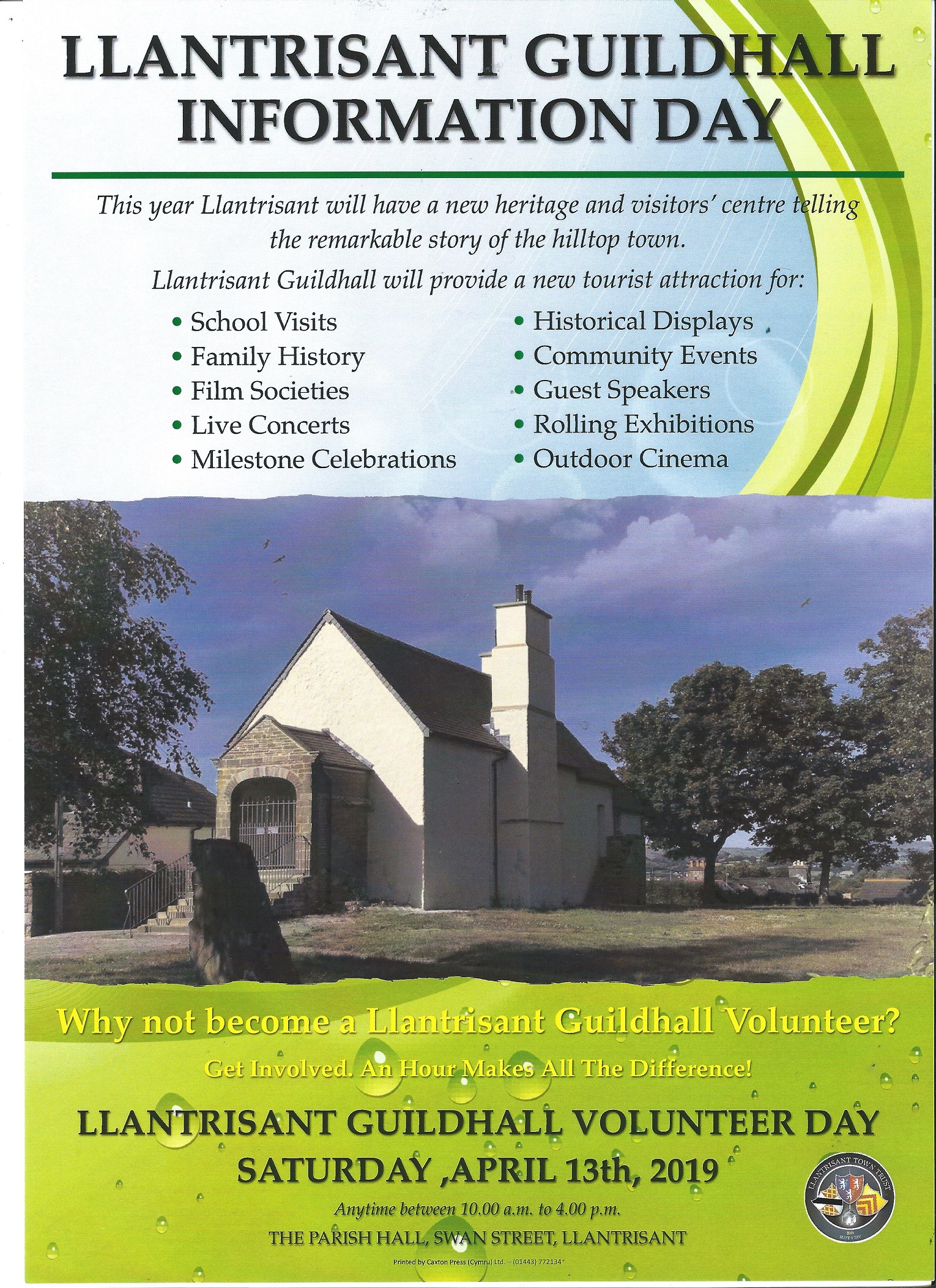 Currently building restoration contractors David Siggery Ltd are completing the interior fit out of both floors and this will be followed by the installation of the extensive exhibition elements.
The new heritage centre will become a new community resource for the ancient hilltop town and tell a remarkable 1,500 years of local history.
As the centre of power for almost 700 years which governed an ancient borough, the Guildhall has the opportunity to become central to the community of Llantrisant once more by telling stories of bloodthirsty battles, captured kings, cremation pioneers, religious revivals and local tales of drunkenness and debauchery in its twenty-seven thriving pubs!
The Guildhall will house Llantrisant's unique silver Mace, dated 1633 and a survivor of the Civil War – making it older than the one in the House of Commons. The Trust has also commissioned a full-size mannequin of a Welsh longbowman at Crecy.
A longcase clock made by a Llantrisant clockmaker in 1780 has been traced and will go on display along with a large oil painting of Sir David Evans, the Lord Mayor of London.
There will also be a full display of outfits, medical equipment and personal items belonging to Llantrisant's controversial resident Dr William Price along with a wide range of local treasures and interesting details about the town throughout the centuries.
The new visitors' centre will house state-of-the-art exhibition space, research for genealogy studies, interactive displays, historic artefacts, documentation and photographs. It will act as an important education facility for children and visiting school trips.
With a rolling programme of events, workshops and exhibitions, the Guildhall will also provide a location for landmark events while its neighbouring Castle Green will become a new focus for community activities.
From weddings and intimate dining experiences to guest speaker programmes and concerts, the building can also be hired for events, conferences and special occasions. The project will bring more visitors into the borough while also providing a first-class facility for people in the immediate area.
Llantrisant Guildhall Restoration Project is being made possible due to funding from the Heritage Lottery Fund, Cadw, Garfield Weston Foundation, Welsh Church Act, Visit Wales, Llantrisant Community Council, Llantrisant Town Trust and public donations.
For further details visit www.llantrisant.net