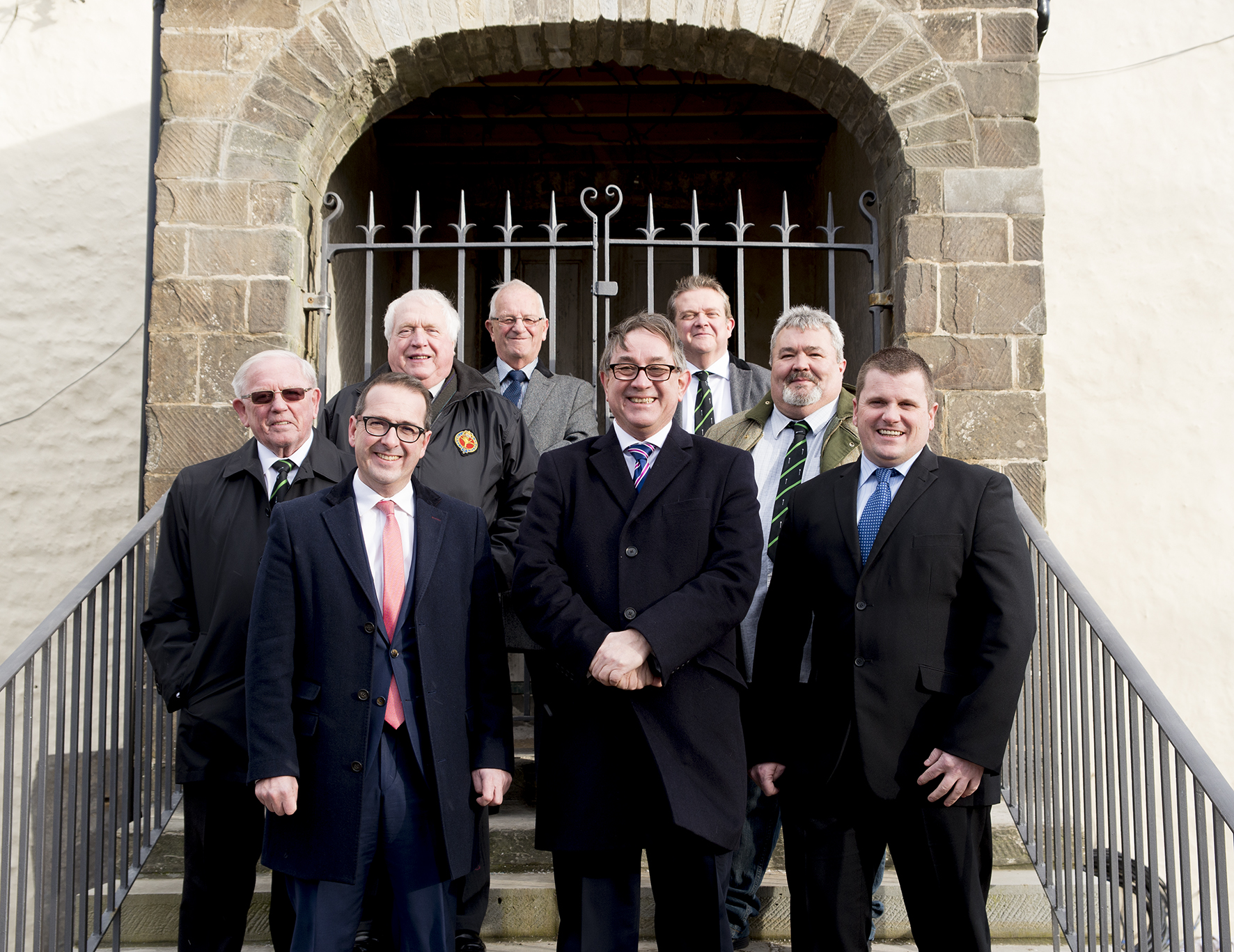 A £1.4million transformation of Llantrisant's historic Guildhall into a heritage and visitors' centre is reaching its final phase of completion. 
Pontypridd MP Owen Smith and Mick Antoniw AM joined Leader of Rhondda Cynon Taf Council Cllr Andrew Morgan for a tour of the building which is now 75 percent completed.
Following a year of restoration and construction work, Llantrisant Town Trust are raising a further £300,000 to complete the interior of the building followed by a total exhibition fit out. 
As the centre of power for almost 700 years which governed an ancient borough established by a charter in 1346, the Guildhall has the opportunity to become central to the community of Llantrisant once again by boosting the local economy as it welcomes more visitors to the town and wider county borough.
Owned by the Freemen of Llantrisant and managed by the Town Trust, the 14th century court house is being restored to its Georgian period splendour when it was rebuilt in 1773.
Mick Antoniw, Assembly Member for Pontypridd said: "It has been fantastic to work closely with the Trust over the last few years and in particular to help secure funding for this important and exciting project.   I'm supporting the Trustees in their final push to compete this project, which will provide a unique community facility to be enjoyed by the people of Llantrisant and beyond."
During the past year much has been achieved. A large extension has been built for the installation of a lift to ensure full disability access to both floors, together with a toilet suitable for disabled use, and a boiler room.
The entire building has been restored to the very highest conservation standards as befits a listed building. The main floor has been rebuilt, and extensive timber repairs carried out to the roof structure.
New and refurbished windows and doors have been installed, and the exterior walls and porch have been completely repaired and renovated. The large medieval chimney has been rebuilt to its original height, and the roof completed in new Welsh slate.
Much of the internal work has also been completed, comprising comprehensive waterproofing, partitioning, underfloor heating, and first fix electrics.
Owen Smith, MP for Pontypridd said: "It's fantastic to see the Guildhall's exterior work completed and I want to congratulate the Town Trust and all those who've worked so hard to get us to this point.
"We need to press on now with the final stage and get the inside fitted out as soon as possible. The Trust can continue to count on my full support and I will do all I can to get the project over the line."
The final phase of fundraising of around £300,00 will allow contractors to fit ceilings, plaster and paint all the internal walls, fit the kitchen and toilets, complete the electrical, plumbing and drainage work, and install the lift, and final floor finishes.
High specification security cabinets and a full exhibition display will be installed on both floors. The Trust has also commissioned a full-size mannequin of a Welsh longbowman dressed in the uniform worn at the Battle of Crecy.
A longcase clock made by a Llantrisant clockmaker in 1780 has been traced and will go on display along with a showcase of Dr William Price items and a large oil painting of Sir David Evans, the Llantrisant-born Lord Mayor of London which is on loan from Cardiff Council
Leader of Rhondda Cynon Taf Council, Cllr Andrew Morgan, said: "I am delighted to see the Guildhall being transformed through the hard work and dedication of all involved.  This development has been made possible through close partnership working between a number of organisations, and I am sure that the Guildhall will become a prime attraction for residents and visitors alike."
The new heritage and visitors' centre will house state-of-the-art exhibition space, research and IT suite for genealogy studies, historic artefacts, documentation and photographs.
With a rolling programme of events, workshops and exhibitions, the Guildhall will create a major community hub bringing more visitors into the county borough while also providing a first-class facility for people in the immediate area.
Llantrisant Guildhall Restoration Project is being made possible due to funding from the Heritage Lottery Fund, Cadw, Garfield Weston Foundation, Welsh Church Act Fund, Visit Wales, Llantrisant Community Council, Llantrisant Town Trust and public donations.
Professional support has been given by Rhondda Cynon Taf County Borough Council, which also granted listed building consent for the renovation.
For further details visit www.llantrisant.net