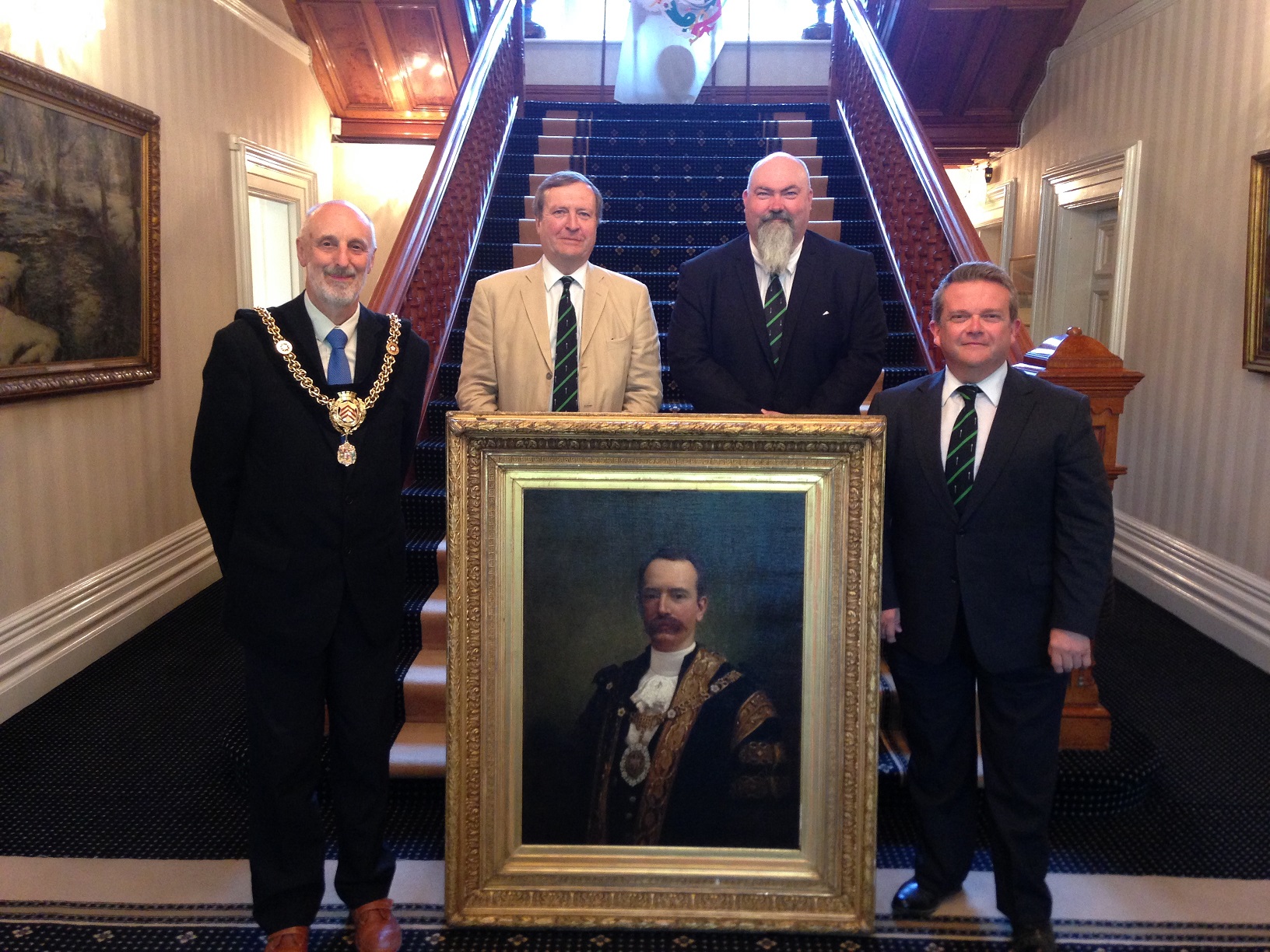 The First Citizen of Cardiff Cllr Bob Derbyshire met members of Llantrisant Town Trust following the discovery of an unknown painting of a former Freeman of the hilltop town.
Sir David Evans was one of Llantrisant's most notable sons after becoming Lord Mayor of London in 1891 but until now a portrait of him has never hung in his hometown.
But when Cardiff City Council's Mansion House staff discovered the portrait hidden away in their storage room, they agreed to a permanent loan agreement with Llantrisant Town Trust.
Cllr Derbyshire said: "The painting of Sir David Evans has baffled our curators for many years because it has no name plate or any reference which helped identify him.
"When Llantrisant Town Trust contacted us with a photograph of Sir David, we were able to identify the painting at long last.
"We feel it only proper that the painting can be admired once again by the people of his hometown in the setting of the restored Llantrisant Guildhall where he became a Freeman."
Llantrisant Town Trust, who manage the rights and lands of the Freemen of Llantrisant presented to them in a Charter of 1346, have spent six years and raised £1.1million to transform the Guildhall into a heritage and visitors' centre.
The Guildhall will tell the unique history of the ancient town, including its heritage of Freemen, the role its longbowmen played at the Battle of Crecy, as an overnight prison for Edward II and as the home of the notorious Dr William Price.
Until now there was little to exhibit which celebrated the life of Sir David Evans who was born a farmer's son in Glanmychydd Farm, Llantrisant in 1849.
Clerk to the Town Trust Dean Powell began his research when he found that Sir David had stayed with Lord Bute in Cardiff Castle during a visit in 1891.
It is believed that the portrait was gifted to Lord Bute – who was also Lord Mayor at the time – and hung for many years in Cardiff City Hall, although nobody knew of its identity. Since 1995 it has been carefully stored at Cardiff Mansion House.
Dean Powell explained: "We were absolutely overjoyed to finally discover a painting of Sir David Evans and are very grateful to the Lord Mayor of Cardiff and his staff at Mansion House for all of their hard work and support.
"Once our Guildhall is completed later this year he will be assured of pride of place in the main Georgian court room of the building. We very much look forward to bringing a Lord Mayor of London back home once again."