Charles, 1st Baron Talbot
1685 – 14 February 1737
Roll No. 5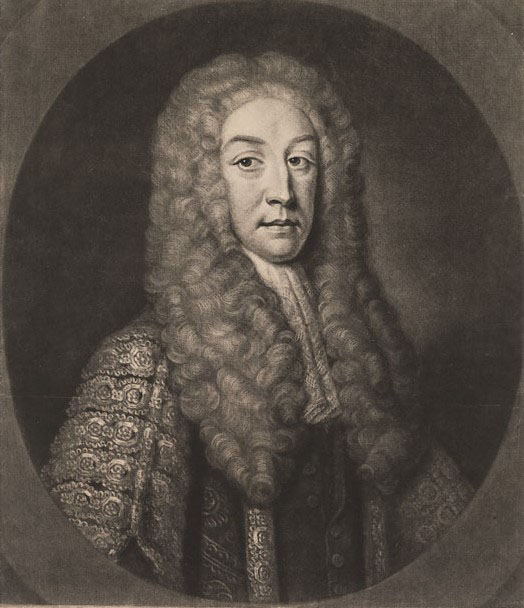 Charles Talbot, 1st Baron Talbot PC was a British lawyer and politician. He was Lord Chancellor of Great Britain from 1733 to 1737.
Talbot was the eldest son of William Talbot, Bishop of Durham, a descendant of the 1st Earl of Shrewsbury. He was educated at Eton and Oriel College, Oxford, and became a fellow of All Souls College in 1704. He was called to the bar in 1711, and in 1717 was appointed solicitor general to the Prince of Wales. Having been elected a member of the House of Commons in 1720, he became Solicitor General in 1726, and in 1733 he was made lord chancellor and raised to the peerage with the title of Lord Talbot, Baron of Hensol, in the County of Glamorgan.
Talbot proved himself an equity judge of exceptional capacity and of the highest character during the three years of his occupancy of the Woolsack. Among his contemporaries Talbot enjoyed the reputation of a wit; he was a patron of the poet James Thomson, who in The Seasons commemorated a son of his to whom he acted as tutor; and Butler dedicated his famous Analogy to the lord chancellor. 
The title assumed by Talbot was derived from the Hensol estate, which came to him through his wife.
Talbot is also remembered as one of the two authors of the Yorke–Talbot slavery opinion whilst he was a crown law officer in 1729. The opinion was sought to determinate the legality of slavery and Talbot and (Philip Yorke, later Lord Hardwicke). The opinion was disseminated and relied upon widely prior to the decision of Lord Mansfield in Somersett's Case.
In 1709 Charles Talbot married Cecil, daughter and heiress of Charles Mathews of Castell y Mynach, Glamorgan, and the grand-daughter of David Jenkins of Hensol. It was through this marriage that lands in Glamorgan came to this branch of the Talbot family. 
In 1734 Charles Talbot was made Baron Talbot of Hensol; his son William was created Earl Talbot in 1761. 
Henry John, the 3rd Earl Talbot, inherited the earldom of Shrewsbury, (becoming the 18th Earl), being a relative of the 17th Earl who died, unmarried in 1856.